Invoice single Guest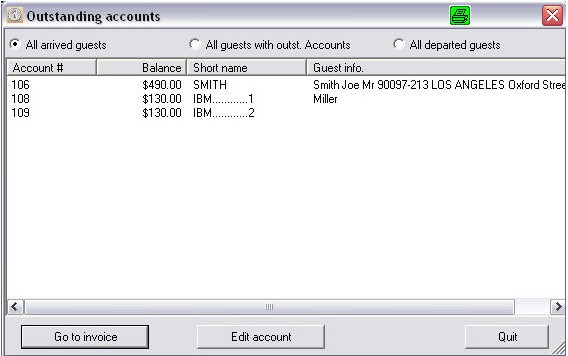 Go to the ´invoice´ button on the tool bar. Automatically, all arrived guests with outstanding accounts are shown. If necessary, you can view all the accounts, or rather, the outstanding accounts of already departed guests. Select the guest and got to invoice. If required, the account can still be looked into or charges such as minibar can be post booked.
Invoice details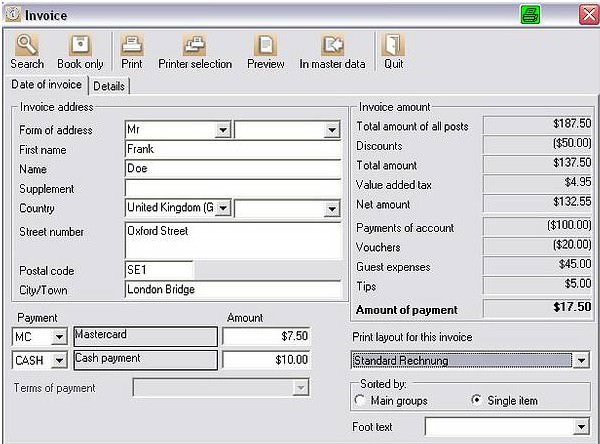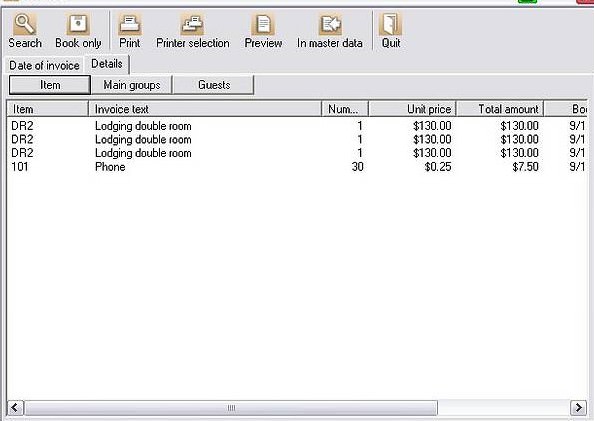 Check the invoice details. You can still alter the address, or call up a guest in the guest index via the search function. By payment type ,enter whether the guest has paid cash or by credit card. If it is to be put on account, enter account receivable. For debtors, various terms of payment can be used, net, 14 days 2% discount….The guest also has the possibility of paying partially in cash and the rest by credit card. For this, 2 different payment types with the adequate amounts can be entered. At the printing layout, it is possible to distinguish between 2 different accounts, that can be entered by an editor for various purposes . Of course, you can also enter your own logo on the invoice. The invoices can be printed, e-mailed or sent per fax from the system. The sorting according to single accounts means that each booked charge with its own designation appears on the invoice, eg: coke mini bar, bourbon mini bar, single room lodging, double room lodging. By choosing main group, only the costs of the mini bar and lodging would appear on the invoice, but not an itemized listing of the charges. For advertising needs, various footer texts can be added. Switch over to the data sheet "details´´in order to view the various booked charges on the account. You can also get a view of the item, main group or guest related charges. In case of alterations to the entries, just switch over to the field accounts.
Groups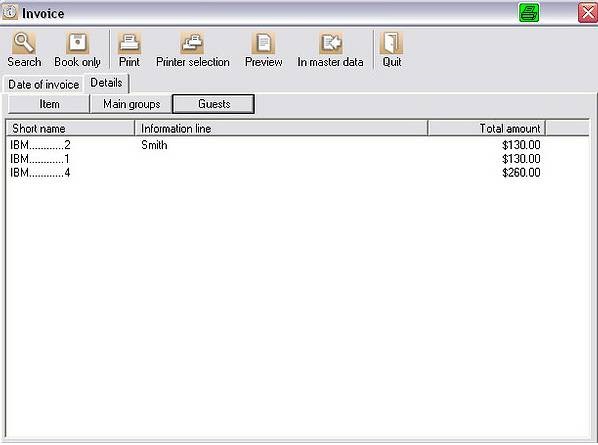 The course of the group invoice is similar to that of the single invoice. The difference here, is that you settle the company account and not the guest account. If you have manually entered: company pays or extras self paid on the reservation, all the charges of the guest are automatically booked to the company account. If not, simply drag and drop the charges on the guest account, to the company account. In the data sheet "guests´´, you now have all guests noted who are stated on this invoice. The time of stay, room and guest name are always stated on the account for measures of control. This ensures that the invoice is correct, which leads to less questioning and alterations to the invoice.