Wizard Step 1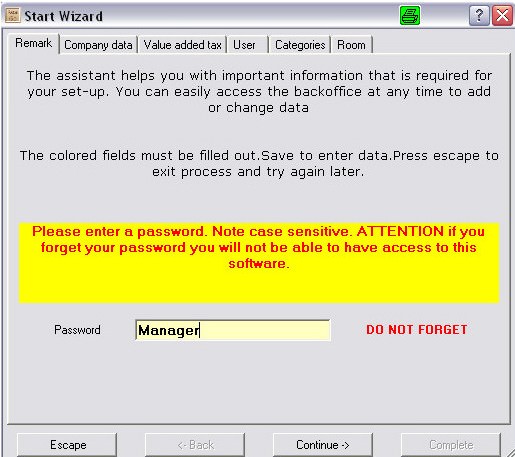 The first set-up assistent will guide you through the fist input of your company data in only a few minutes. This enables you to enter your complete data within 5 – 10 minutes and to get an immediate capable of starting system. The company data can be altered or supplemented in the office at any time. First you must enter an easy to remember password. After closing the assistant, ResiGo will be started by asking for your password.
Wizard Step 2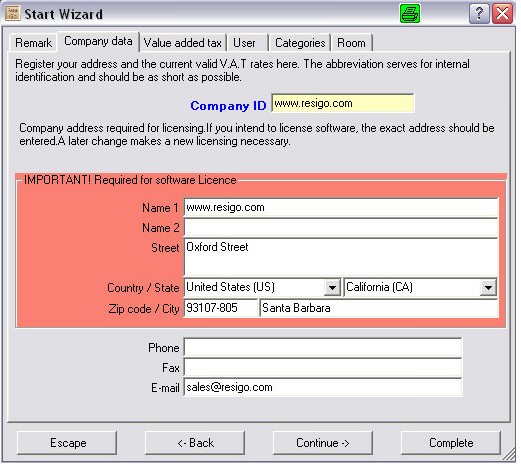 Enter the correct company address here. The address is essential for the licensing of your software later. At later alterations to the address the software must be licensed again. For further questions concerning the licensing, please refer to the manufacturer.
Wizard Step 3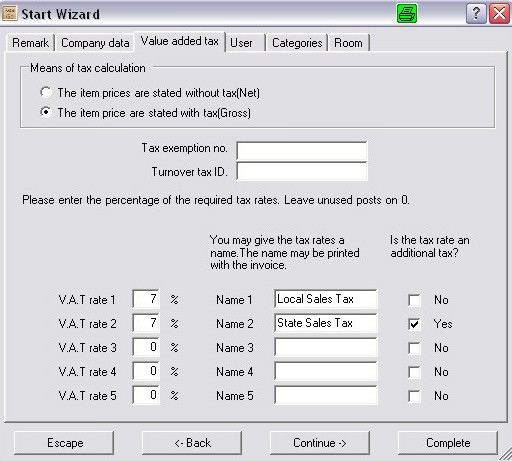 Enter your standard VAT rate here. A second VAT rate can also be entered, eg: for out of house sales.
Wizard Step 4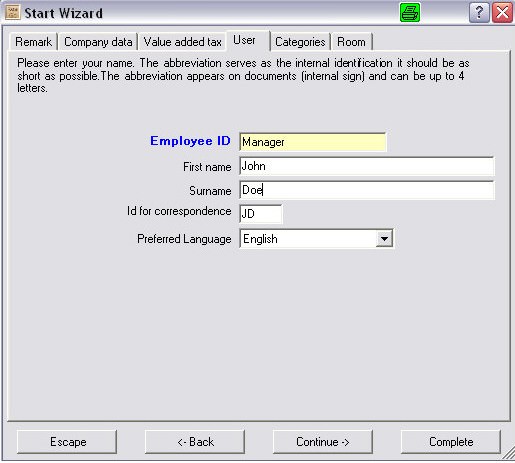 Enter your name and the language in which you want to work in here. English and German are standard, further are in preparation at time. The abbreviation of the correspondence appears for example on the reservation confirmation and invoice as an employee – ID. Further employees with various access groups can be entered at a later stage in the office field.
Wizard Step 5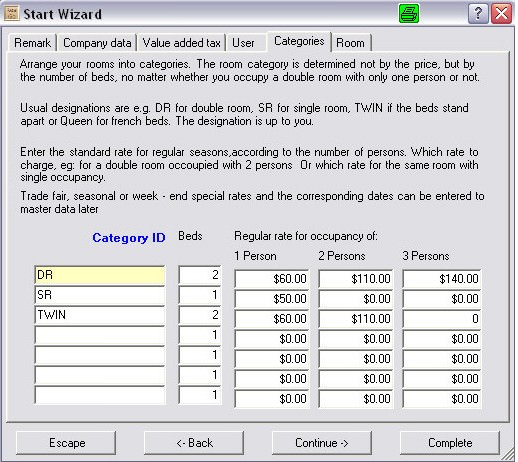 Enter your various categories and prices. You can for example enter how much a double room booking costs with 1, 2 or 3 persons. Don´t be afraid, you can state a deviation of price for each room or allocate special rates. Week-end, seasonal, trade-rates or price lists and packages can be entered here.
Wizard Step 6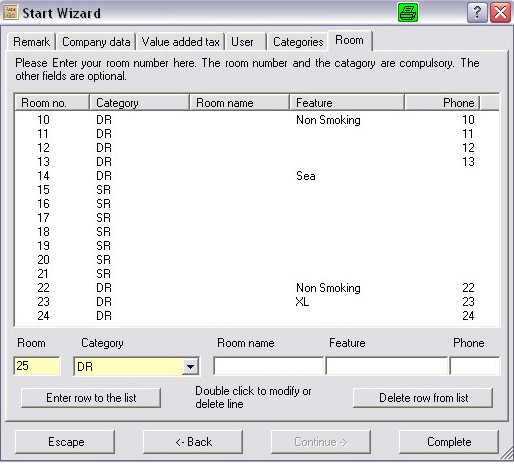 Finally, all you need to do is enter your various rooms. Assign them according to categories. Enter features such as: non – smoking. Sea – view, quiet, street etc. The room chart can also be arranged according to features. You shouldn´t assign too many categories as these will later be included in your group reservations. If a telephone should be connected, you can enter the extension number. The calls will then automatically be booked to the guests account and he can receive an itemized record of all his calls. You are now done with the complete entry of your master data. Go to "complete,´´ register with your formerly entered password and convince yourself of the simplicity of ResiGo. Should you have any questions or problems concerning the installation don´t hesitate to call on us. Perhaps look in on our support / FAQ page first. <?xml:namespace prefix = o ns = "urn:schemas-microsoft-com:office:office" />.